My story:
Kimmi's grandfather married our aunt, this is how we came to know Kimmi L. Pauli. Our blended little family.   
I was 8 and she 7.  We were going to Italy with my aunt/her step-grandma, to visit family for the summer.  From what I could remember she was always happy and we had so much fun together.  Man, we both were being spoiled and loved every moment of it.
Her smile had never changed in all these years (just looking at all the photos on this site), always stayed bright, big and friendly.  She and her family lived in the LA area, myself and family in Santa Barbara.  I wish I did know her better back then and not just in the 5 months of our corresponding before her passing.
Our passion for cats was shared via e-mail.  I had just given birth to a baby girl (my second) and she was so happy for me and wanted pictures of both girls.  She met the first daughter at a puppy birthday party in Arizona, years ago.   
She wanted to know more of being a christian and I had sent her literature and shared some verses of the bible.  I have always known her to have such passion of things she was interested in.  I had no idea behind that happy smile that she was so sad inside.   
Our e-mails stopped for a month, I had moved from the East coast to the West coast (the computer was packed, but my mom was writing her e-mails and so I would call mom to see how things were going with Kimmi and JoAnn) and then I got the news.  I wished I could've shared a visit with her, to hold her and let her know what an awesome person I thought she was.  
Our friend has touched so many lives.  I am happy to say that I am one of the blessed ones of knowing her.  I send blessings and love to all those who Kimmi has touched and reached out too. Our love will never die in Gods Grace. 
We love you sweet Kimmi
Happy Birthday                                  xoxoxo   Annamaria Vendrasco-Briggs and family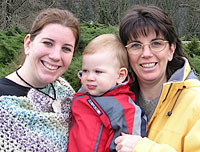 Annamaria (right) with daughters Christine (left) and Katharyn (center).
Jo Anne, I woke up in tears this morning, you would think I actually knew Kimberly and I guess I do, through you and through your pain.  I immediately sat down and wrote a poem. 

Wish I could be there with you today, I'm there in spirit.     
Hugs Judi     
---
YOUR DAY

Today would be your forty-third birthday, At least in Earthly years. Maybe there, The count starts upon your arrival.
No matter, I will forever celebrate both days, Not with the customary taste Of sweet cake and icing.
The Happy Birthday song will be sung Silently in my heart And drowned with the taste Of a million salty tears.
Oh, Kimmi, I want to hold you, hug you, Kiss your cheek, share with you The ecstasy I felt when you were placed In my arms forty-three years ago.
I am holding you in my heart, And I know you will be watching the petals Of your favorite flowers waft in the wind, Traveling your direction as I go to Idyllwild.
I am celebrating your day and sending Your present to you, letting the flowers slowly Leave my fingers.  I am trying to let you go as well. I can't.  Not yet.
Give me a sign that you are happy And at peace, maybe next year, or the year after, I can handle having a party for you And accept just your "spiritual presence."  
Let me laugh more........ And cry less. Happy, happy birthday, My sweet Angel girl.
All my love and more,  
Mom
Dearest Kim-   
You were one of my oldest friends. I think we met in nursery school.You were the first girl I had a crush on.You were one of the rare girls who was just as beautiful on the outside as on the inside.
I miss you. Happy Birthday.
Much Love-
Bob Lifson
My beautiful friend to, too gentle for this earth:
Your essence is etched into my soul, permanently. I would do anything to have you back. I pray you are at peace.
Know that I am dreaming of you on what would have been your 43rd birthday. Every year on your special day and mine we would sing "put another candle on the birthday shrub." We spent so many birthdays together, and I will be celebrating your memory as I do each day since you have been gone.
I am loving you,
Susan Hayden
6/27/05

Dearest Kimberly,
This is the first of your birthdays you are not with us. On June 27, 2005, you would have been 43, but instead we are left with just your memory.... Our love for you is as strong as ever, and all we can say is that we are so grateful for the time you spent with all who had the fortune to know you...
Thank you for the cherished times, and where ever you are, know that for this birthday, we wish you the peace which eluded you in life...
Mark and Karn

I wish Kim were still here, as we all do. I am thinking about her on this beautiful sunny day in Los Angeles. I know Kim would like this kind of glorious day, especially when so many of us would be wishing her a Happy Birthday and hopefully giving her a nice gift, too. She gave so much to all in her life. She is with us always, and the warm sunshine comforts us a little. It reminds of us Kim's smile and countenance.
Happy Birthday Kimberly!!
I will save you a place on the bus. Hal
---
---
Kimberly,
Although you are not a phone call away today, my thoughts and messages are with you as most days. I miss your sunny smile, sparkling blue eyes and big warm heart. 
Happy Birthday My Dear and Lovely Friend!
Lots of love,
Mary Ann  

Happy Birthday to our dear Kimmie.... We're missing Kimmie today,  yet we know she is at peace We know she is feeling our love - in her heavenly place... Many special people in her life have passed on -  and we know they are with her now -  They have taken her hand - and are guiding her on her special journey - She is content, and smiling with a kitten in her lap.... She is surrounded by love and tenderness I  miss the beauty and  sensitivity of Kimmie... But most of all, I will never forget those blue eyes, and the laughter and mischief two little girls created!
Kimmie - you are in our hearts now and forever.... Happy Birthday.....
With love,
Your "Other Mom"  Vivian
My dearest friend Kimmi --  aka Sim,
Your birthday is coming soon.  Even after all of these years, I have never ever forgotten that June 27th is your birthday.  I always wondered on that day what my very first and very best friend was doing to celebrate.  This birthday will be so different and I hope so very peaceful for you.   
When I think of you, I can only remember the constant giggling.  We hid when our moms came to pick us up from each others houses hoping for more time together, we swam endlessly in your pool and I even remember going with your family to pick up Sabrina -- that goofy Great Dane who chased my brother Bobby around the pool and sent us into more gales of laughter!!  Your broken leg from skiing was our perfect escape from our classroom as I was your designated "helper" until our teacher was on to our antics! 
Moving to North Carolina in the summer of 1971, was the saddest time for me.  I felt like I was losing my best friend who was more like a sister to me.  We wrote often and talked on the phone, but the time and distance was getting the better of us.  I visited once when I was 13 and realized how different we had become but you still always had a special place in my heart.  I married very young and you were my maid of honor.  Even though that was one of the dumbest decisions I ever made, you still came and stood by me.
Oh, Kimmi, how I wish that I had known what was troubling you so.  I wish I had written more often, called more often, e-mailed more often.  I just thought that you were busy with your life, as I was with mine.  Life is so very short and I wish you were here now.  I miss you and you will still always have that special place in my heart forever and ever.
Love,
Stephanie -- aka Bluff
---
---
June 27, 2005
Dearest Darling Kimberly........

I don't know how to face  your birthday tomorrow.  43 years ago on June 27th was the  happiest day of my life......and now I have to face this day 43 years later knowing you are gone and having the memory of my sweet little baby lying  in her coffin just 9 months ago on September 19th. 

It feels very much like a nightmare      that will not end. I miss you more than you could possibly know. 
My love for you is so very deep as it always was.  How I will miss baking your favorite cake, getting you a massage, taking you to your favorite restaurant and buying whatever favorite thing you would have wanted for your birthday.  I have looked at so many things and said...that is what I would have bought for Kimberly this year. 

How very cheated I feel that I will never see you as a bride, see you with a child, see you happy and healthy, enjoy our life together.  The pain is hardly bearable. I have much anger at those hurt you so the last few years.  They know who they are, those that broke your heart beyond repair.  And my heart is filled with malice for them.

Tomorrow I will be going to visit you at the mausoleum and then proceeding up the Palm Springs Aerial Tram where I will sprinkle pink baby roses ( your favorite) over the desert from atop the mountain. I will recount every minute of June 27, 1962, the day you were born as I have done for each of the last 42 years .  You were born at 5:03 P.M. on that lovely day and were so welcomed into the world.  I will send my deepest love to you my precious daughter and hope so dearly that we will be reunited one day.

Happy Birthday
My Darling Kimberly..........
Your Mom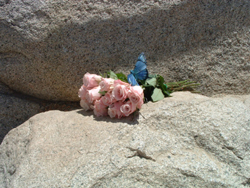 ---
Dear Kimberly,
Your goofy, beautiful "son" Marshall reminds us of you every single day. 
You knew him first, you loved him first, and we're convinced that your tenderness gave his little orange soul the will to stay alive when he was just a few ounces big.  You had no idea then that your generosity and grace would touch our lives so deeply. 
Thank you for that.
On this day, we wish you peace and the knowledge that you are terribly missed by your mother and family and friends.  You will be safe in all our hearts forever.
Love,
Gary and Deborah Collins
---
A Happy Birthday to our sweet Kimmi.
 I think of you everyday and especially you, Mrs. P.
Love,
Jean Lawson (Bluffs Mom)

June 27, 2006
Dearest Kimberly ----
Though you're gone, dear one, our love for you lives on...
It burns
It soars
It weeps
It roars
On this, the day you were born
We remember how much our love lives on...
For our darling, dear Kimberly...
Mark and Karn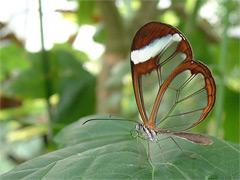 In Honor of Kimberly... sent from Uncle Larry Hagen -
Beautiful transparent wing butterfly from Central America.
---
Kimberly Laine Pauli

"A Woman Who Made a Difference..."

The most difficult part of offering this tribute to a such a beautiful
and caring soul is where to begin...
We first met Kimberly in 1995. A little black feral kitten found it's way into our yard, and being cat-lovers we started feeding it. She took up immediate residence with us, and soon a couple more young feral cats showed up and joined her. Our property had been "claimed".
As they quickly grew, we were soon presented with a litter of kittens.
Now things were starting to get out of hand. We made some mostly unsuccessful efforts to find homes for these new arrivals, but those we couldn't get homes for ended up being part of the "new colony".
Inexperienced in this kind of situation, we contacted the SPCA, the
Humane Society, LA Animal Regulation, etc, etc, and found out quickly that they were not willing to help us. Being supporters of Best Friends we contacted them. They sent us educational materials and counseled us on the phone on how to do the "TNR" and so we started the long process of catching everyone as the colony now numbered in the mid-20's...
The trapping process took over 2-years (many reluctant trappees!) and it was during this time (while the "untrapped" continued to present us with many new litters) that I saw a card in our Vet's Office. The card read
"Kimberly Pauli, Kitten Rescue and Placing". An Answer to our prayers!
...and that she was !!
We contacted Kimberly and she came over to the house to assess our situation. We put a plan in place to capture any new kittens while they were still young enough to domesticated. She taught us how to raise and feed the very tiny young ones, and when a litter got to be 8-weeks
she'd come over, give them their shots, and start the home-finding process.
She was absolutely incredible... sharing her vast knowledge with us and utilizing her huge network of contacts, she took litter after litter and expertly placed dozens & dozens of kittens for us in high quality homes over the next couple of years. Without her assistance we simply could NOT have done it..!!!
We became good personal friends with Kimberly, often supplying needed items for her own rescue efforts, and helping her find homes for older rescued cats where we had opportunities. Kimberly was a tireless workhorse, volunteering all of her free time, and for all the years we knew her, I don't think she ever took a day off. Her level of unselfish giving was phenomenal..!!
Once someone had "dumped" an older cat in a box on the steps of the Robertson Veterinary Office where Kimberly volunteered part-time and so they named him "Dumpy". As it turned out, a neighbor of my Mom's in Orange County was looking for a sedate older cat to be a companion for her disabled husband. I told her that Kimberly had some older cats available for adoption, and her reply was, "..I'll take whichever kitty that has the least chance of being adopted". God bless her.!! She ended up adopting "Dumpy", and we drove him out to Orange County to deliver him to his new home. Ever curious and yet very cautious, he checked out his new surroundings, keeping low to the ground, and earned
the new, and more respectable name of "Slinky". At last check he was
in-charge of his new home and very happy...Kimberly saved another one.
Kim also had a major part in the rehabilitating of our tiny kitten named "Cubby". He very nearly lost one of his hind legs due to a dog attack.
He still walks with a limp, but on "all-fours"..Kim always called him her
"nephew"....
Once our "Colony" was 100% controlled, we'd occasionally foster a new litter of feral kittens, and once again work with Kimberly to find homes for these little souls.
It was during this time we noticed Kimberly's personal life was beginning to face multiple challenges. Loss seemed to engulf her. Her Fiancé, her Dad, her job, even her Mom moved farther away.... She'd call us either asking for advice, or just a shoulder to cry on.
We'd often make plans to go to dinner and discuss things, and try to help out with her problems, but she'd always cancel out at the last minute. She'd sometimes call the house and ask to come over to talk, but then she'd never show up.
As things got worse, she seemed to be going deeper into depression. Her Dad died, she lost her lucrative job, she couldn't seem to find a new romantic interest, and she couldn't find work again. Based upon my previous management experience, she sent me copies her resume and asked me to review it and make suggestions on fine tuning it.

We tried to help her in any way we could, but things were not working out for Kim. Phone calls we made were not being returned, & she was getting difficult to reach.

Then, suddenly, there was a momentary ray of sunshine...we received a message from Kim that she had been accepted as a temporary "fill-in" for someone who was on an extended vacation, and if she could prove herself during this time, it could become a very lucrative permanent position...and she had met "someone". It sounded like things were finally starting to turn around for her and she sounded happy again for the first time in a long while...

Ironically, that was the last we ever heard from Kim. Subsequent efforts to contact her were futile. Her e-mail addresses went away, her phone was disconnected, and her cell phone didn't work anymore.
I stopped by her condo once but there was never any answer, and I couldn't even tell if she lived there anymore. We asked around and no one seemed to know where Kimberly went. She simply dropped out of sight.

A long time went by and we often thought about her and wished we had some way of finding out how she was doing. Then a few months ago I was doing volunteer work for a Cat Rescue Group (Singita) & I mentioned Kimberly's name to one of the pet shop employees. She gave me an odd look, and said, "..don't you know that Kimberly is gone??"

I shook my head in disbelief, and she began telling me Kimberly's tragic story. I went home and told Donna what I'd heard, and together we shed many tears.

Donna found many items on the web about Kim, and we have since been in contact with some of Kim's old friends and associates and, of course, we've spoken to Jo Anne.
Then, last year, we visited the Best Friends Animal Sanctuary in Kanab, Utah. One of our stops included the beautiful "Angel's Rest" pet cemetery there. Unbeknownst to us, there is a Memorial Plaque there to commemorate all the work Kimberly had been involved in with regard to "Cat-Nippers", the Best Friends Spay/Neuter team in Los Angeles.

Had we accidentally seen that Memorial without yet knowing Kim was gone, it would have been a monumental shock for us both.!! We now plan to go visit it soon, and also Kim's resting place in Palm Springs.
Kimberly Laine Pauli was a beautiful, loving, caring soul who freely gave so incredibly much of herself to save and protect the lives of so many of God's little creatures....it doesn't seem fair that her own life had
so many insurmountable obstacles which eventually took her away from us, and all of the wondrous good she was doing here on Earth...
Kim.... we miss you so much.....
Donna & Ray Flade
(Kim and "Buttercup"...April 29, 2003)
---
And off she goes carrying the pink roses and her broken heart
To be near the body of her child on a day that brought such joy
and now brings tears of grief and sadness.
Lord, go with her as she walks, and talks and feels,
Take her heart into yours and give her the peace that only You can provide.
Help her remember the wonderful memories and may they help salve the hurts now
May Kimmi's legacy turn now from the difficult times to fully embrace the gift she was and continues to be in the lives she touched with her beauty, her kindness and her many talents.
Bring this mother safely home O God, and may the love and joy of her little animals and Your peace rest gently on her spirit from this night forward.
Amen
Barbara LesStrang Baumann
Prayer for Kimberly, written for Jo Anne in Kimberly's memory on her birthday.
---